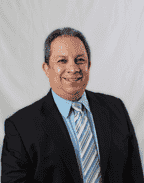 Brother John // Managing Partner
John Aldecoa, managing partner, is a third generation Tucsonan who is well integrated in the local Tucson culture. He has over 25 years of management experience with a Bachelor of Science in Mechanical Engineering and a Masters of Business Administration from the University of Arizona. He is currently a national technical manager with Ascension Information Services, supporting 26 hospital networks across the US. John started his career in the restaurant industry at 15, working at various pizza restaurants until opening DJ's Pizza Pub & Grill in 1993 with his brother. He is an active member of the Tucson community, involved in several community organizations such as Anytown Arizona, Tucson International Mariachi Conference, Girls Scouts of Southern Arizona, and Theta Tau Professional Engineering Fraternity. He currently serves as President of Theta Tau Housing Corporation, an Arizona non-profit corporation that provides student housing for engineering students at the University of Arizona.

Teaming up once again after 17 years, John is partnering with his brother's national restaurant development and consultancy group based out of New York City with 25 years of experience in the hospitality industry opening and operating restaurants and hotels in NYC, Massachusetts, Las Vegas, Denver, and Southern Florida. The NYC restaurant group, which also includes partner Sascha Kreideweis, along with John Aldecoa and Ines Newby, Marketing Director and fellow Eller MBA graduate, has formed Brother John's Restaurant Group in Tucson and is already working on other new projects in the Tucson market.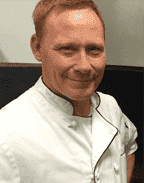 Patrick Vezino // Chef De Cuisine
Patrick Vezino has over 20 years of culinary experience in a variety of settings ranging from four star resorts to locally-owned restaurants in both Las Vegas and Tucson. Classically trained in French cuisine by an international Master Chef, Patrick has worked in Tucson kitchens such as Café Torino, Zona 78 and Arizona Inn. He also helped open Memphis Championship Barbecue under the direction of barbecue legend Mike Mills, a partner in Danny Meyer's Blue Smoke in NYC. In 2004, Patrick was nominated for Best New Chef in Las Vegas by the Southern Nevada Culinary Association and was also invited to cook for President George W. Bush at Nellis Air Force Base, Las Vegas.