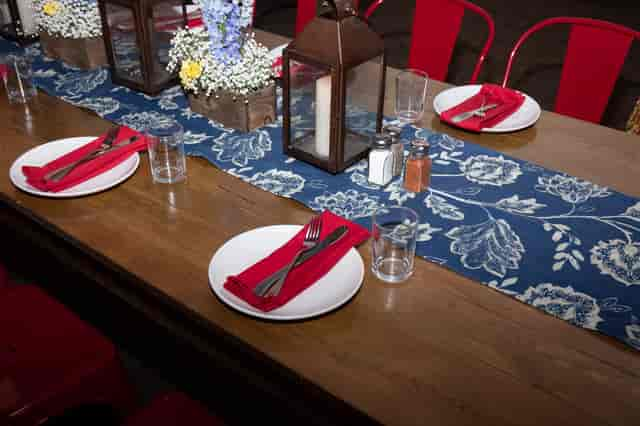 Event Hosting
Private Dining
Hosting an Event? Brother John's currently offers complete Private Dinning in our 1800 square foot Wildcat Room or 200 square foot outdoor Biergarten. We also offer semi-private space for events ranging between 15 – 200 ppl and more! Also inquire about full restaurant take over for up to 400 ppl. Limited availability based on day of the week as well as the time of year.
The Wildcat Room
Fully Private
Brother John's Signature private dining room (PDR) has everything you need to host your next personal or business event. Dimensions are 31' x 160' with high ceilings and a built-in counter space for guest use. The Wildcat room features built in audio/visual amenities including 2 projection screens and full house sound system. The room layout can be configured in various ways to accommodate your needs! Built in dance floor area, custom made 8' bar that can be placed anywhere in the room.
Occupancy limits include:
• up to 150 ppl for seated meals (rounds tables)
• up to 170 ppl for seated meals (rectangular tables)
• up to 250 ppl for standing reception style event
• up to 270 ppl theater style
• up to 160 ppl classroom style
The Biergarten
Fully Private or Semi-private
Our outdoor Fully private Bavarian inspired Biergarten is a great place for outdoor events and dinners. Dimensions are 36' x 180' with built in solid wood 8' long rectangular tables with benches. Can use existing 16 tables and benches and can add rolling bars, and buffet tables. Limited potential to remove some tables and set up area as needed. Audio visual can be brought in as requested; house sound included. Can be fully private or a section of semi-private also available for smaller events.
Occupancy includes:
• up to 160 tables of up to 10 ppl each utilizing existing wooden tables (can add space for standing)
• up to 275 for standing reception style event
• up to 300 for theater style
The Bourbon Lounge
Semi-private
Our indoor Bourbon Lounge is an ideal space that is separated from the main dining room perfect for receptions and smaller gatherings. This space consists of 5 extra-large built-in booths with space enough for up to 12 people seated per booth with cocktail tables and plenty of standing room adjacent to the large whiskey bar (bar space can be included in Bourbon Lounge event)
Occupancy available for events from as small as 10 ppl up to a limit of 80 ppl.
Main Dining Room
Semi-private
Our large indoor dining room seats up to 160 ppl with a combination of half booths and various tables and chairs. We can accommodate semi-private sections of the dining room for events as small as 15 ppl up to 130.